All-State Mixed Choir
Stephen A. Futrell (DMA, University of Missouri-Kansas City, Conservatory of Music) is Director of Choral Activities and Associate Professor of Music at Elon University in North Carolina, where he teaches conducting, directs the auditioned Elon Camerata, teaches contemporary commercial studio vocal style and technique, and is director of élan, a select a cappella, vocal jazz, commercial/studio ensemble. He currently serves as Artistic Director/Conductor for Voices – The Chapel Hill Chorus, conducting two ensembles: Voices, a 110-member chorus; and Cantari, a chamber choir of 30-36 members. The Mission of Voices is to foster, sustain, and share the art and joy of choral music and to enrich the Triangle community through excellent performances of music from diverse cultures and historical periods.
Dr. Futrell's experience, enthusiasm, and guidance was instrumental in founding and developing Elon's Bachelor of Science degree in Music Production & Recording Arts—a very popular program that now boasts its own record label, tech lab, and digital recording studios. It was his background and curricular research that facilitated the establishment of the program's emphasis on creative process, critical listening, and both live and studio performance and recording techniques.
With the Baton Rouge Symphony, as former Chorus Master and Staff Conductor, Dr. Futrell conducted annual Messiah concerts, Christmas Pops concerts, as well as their summer concert series. He made his European conducting debut in June 2002, appearing with the Sinfonia Dell'Arte di Arezzo at the Teatro Petraca, Arezzo, Italy. Then in 2006, he served as conductor for the National Youth Choir at Carnegie Hall, as a guest conductor at New York's Lincoln Center, as well as appearing as Associate Conductor/Chorus Master for the Aegean Verdi Festival on the island of Lesvos, Greece. Among Futrell's publications, his most significant are his modern performance editions of three Classical motets by Anna Amalia von Sachsen (1739-1807), published and available through Fred Bock Music Publishers.
As a recording artist, and former music producer for DreamWorks Animation SKG International, with more than three decades of experience, Dr. Futrell has performed in live and studio settings as a vocalist, trumpeter, writer, arranger, and producer throughout the metropolitan areas of Kansas City, Chicago, Orlando, Nashville and the Gulf Coast region.
His clinics and presentations on conducting, rehearsal techniques, and all-things-jazz have been at state, divisional and national levels for ACDA and NafME. His 2017 performance as guest artist and vocal jazz clinician for the University of Colorado—and Fairview High School in Boulder, Colorado—was standing room only. As a guest conductor for district and state honor choirs, he has conducted in 15 states, as well as solo and ensemble adjudication both in the United States and abroad. Dr. Futrell is former Jazz Repertoire and Standards Chair for ACDA Southern Division, and is currently Jazz Repertoire and Standards Chair for North Carolina ACDA.
Futrell is recognized as a proponent of the solo voice and emphasizes the use of vocal science as the foundation of his approach to artistic ensemble singing. He currently serves as adjudicator for CS Music (https://csmusic.net/) which sponsors national vocal scholarship competitions and offers on-line vocal coaching.
Stephen Futrell's artistry as a conductor has been influenced by his doctoral studies with Eph Ehly and Gary Hill. His Bachelor and Master degrees in Music Education from Louisiana State University, where he worked with Frank Wickes, James Yestadt, Victor Klimash, and Kenneth Fulton, have also been influential.
All-State Women's Chorale
Dr. Kevin P. Johnson is an Associate Professor of Music at Spelman College.  His teaching opportunities include the Spelman College Glee Club, choral conducting and literature, and several courses relating to general music education.  Dr. Johnson earned a Bachelor's and Master's Degree in Music from California State University, Los Angeles, and a Doctoral Degree from the University of Missouri- Kansas City Conservatory of Music.
As a tenured professor, Dr. Johnson teaches choral conducting, music theory, music technology and has stood as the director of the world-renowned Spelman College Glee Club for 20 years. He has been instrumental in increasing the ensemble's visibility and has raised the overall musicality of the group with his close attention to detail and passion for musicianship.
He has served as the director of music at various churches, providing choral workshops and retreats for music educators and churches for over 35 years. He has composed works that have inspired Spelman College's schools motto, A Choice to Change the World, and other music that has become significant to the Spelman College community.  Dr. Johnson continues to uphold the tradition of choral excellence while vowing to continue to amaze and inspire all those who come in contact with the Glee Club.
He is a member of the American Society of Composers and Publishers as well as an active member of the American Choral Directors Association.  He is a member of Pi Kappa Lambda National Music Honor Society and has been the recipient of several musical honors and awards throughout the West Coast and Midwest.
All-State Orchestra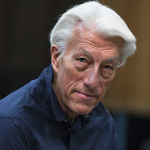 Larry Livingston is a distinguished conductor, educator, and administrator, and a highly respected motivational speaker. The founding Music Director of the Illinois Chamber Orchestra, Livingston has appeared with the Houston Symphony and in the Los Angeles Philharmonic Green Umbrella Series. He has conducted at the Festival de Musique in Evian, France, and has led the Stockholm Wind Orchestra, as well as the Leopoldinum Chamber, Chopin Academy, and Wroclaw Philharmonic Orchestras in Poland. He served as Music Director of the Pan Pacific Festival Orchestras in Sydney, participated in the International Jazz Festival in Rome, and conducted electro-acoustic ensemble concerts in Tokyo under the auspices of Yamaha International. Mr. Livingston has led the Houston Symphony, the Los Angeles Philharmonic Green Umbrellas Series, the American Youth Symphony Orchestra, the Young Musicians Foundation Orchestra, the USC Thornton Chamber and Symphony Orchestras in Los Angeles, the USC Thornton Contemporary Music Ensemble in Berlin, and served on the jury for the renowned Besancon International Conducting Competition in Besancon, France.
Mr. Livingston has performed with soloists Keiko Abe, Ran Blake, Shelly Berg, Maureen Forrester, Adolph Herseth, Lawrence Lesser, Yehudi Menuhin, Robert Merrill, Mark O'Connor, Christopher O'Riley, Itzhak Perlman, Donald Sinta, Ralph Kirshbaum, Nadja Salerno-Sonnenberg, John Walz and Time for Three, and has premiered and/or recorded works by Shelton Berg, Paul Cooper, Mario Davidovsky, Robert Erickson, Ernst Krenek, Kasia Livingston, Edwin London, Pauline Oliveros, Russell Peck, Roger Reynolds, and Yuji Takahashi.
Mr. Livingston frequently appears with professional, festival, collegiate, and all-state wind ensembles, bands and orchestras throughout the United States, Europe, Australia, and New Zealand. From 1983 to 2002, he served as a conductor in the University of Michigan All-State Program at Interlochen, has been the Conductor of the Festival Orchestra at Idyllwild Arts since 1989, and is the Music Director of Music for All's National Honors Orchestra.
From 1997 to 2001, Mr. Livingston regularly toured Germany and Slovakia with the Internationale Junge Orchesterakademie. The performances and subsequent recordings were "the most successful in this organization's history," according to its director. In the last decade, he has conducted extensively in Eastern Europe, and particularly throughout Poland, leading orchestras in Warsaw, Wroclaw, Jelenia Gora, Bialystok, and Katowice, attracting consistent critical acclaim. Reviews described "long, unending applause, enthusiastic cheers, like at a rock concert, standing ovation."
Mr. Livingston has appeared with the famed Landes Jugend Orchester, served as clinician and guest conductor at the College Band Directors National Conference in Alice Tully Hall, and led All-State Ensembles across the United States including Texas on eleven occasions, an unprecedented record. He has also twice conducted the George Enescu Bucharest Philharmonic Orchestra in Romania, served as Music Director of Thornton School Orchestras, and was Principal Juror for the 3rd Annual Winnipeg Symphony International Conducting Symposium. In 2013-18, Maestro Livingston conducts the All-State Bands or Orchestras of Arizona, Kentucky, California, Colorado, Florida, Massachusetts, Tennessee, Illinois, Iowa, Missouri, New Mexico, Washington, Michigan, and Texas, lead the Sewanee Music Festival Orchestra, serve again as clinician for the Disney Honors Program, and return to Katowice, Poland to conduct the opening concert in an international festival of academy orchestras. As well, he will teach in the conducting workshops of the University of Texas, Austin, the University of Texas, San Antonio, and the University of Colorado.
A graduate of the University of Michigan, Mr. Livingston studied conducting with Laurence Livingston, Elizabeth Green, William Revelli, Rafael Druian, and Herbert Zipper. He also did doctoral studies at the University of California, San Diego. Mr. Livingston served as Vice President and Music Director of the New England Conservatory of Music in Boston, where he was also Conductor of the Symphony Orchestra and, subsequently, became Dean of the Shepherd School of Music and Elma Schneider Professor at Rice University in Houston. From 1986 until 2002, Mr. Livingston was Dean of the USC Flora L. Thornton School of Music during which time he secured the School's naming gift from Flora Thornton, raised more than 100 million dollars, and where he is now Chair of the Conducting Department. The first music administrator accepted into the Harvard University Executive Education Program, he is a recipient of the Hall of Fame Award from the University of Michigan, the Life in the Arts Award from Idyllwild Arts, and an Outstanding Teacher Award from the USC Center for Religion. As a motivational speaker, he has established a national reputation for inspiring presentations to business and education leaders across the United States. From 2008 to 2015, Mr. Livingston was Director of Educational Initiatives for the Guitar Center where he created and led the national educational quest, ALL IN. He is a consultant to the Conn-Selmer Corporation and, at the request of Quincy Jones, Mr. Livingston chairs the Education Committee of the Quincy Jones Musiq Consortium.
In 2013, Mr. Livingston appeared in the "Lights Out" episode of Glee and was featured as a mentor in the USA Cable Network Television series, The Moment.